Detta evenemang har redan ägt rum.
Hathayogaretreat i Goa
12 november, 2018 @ 08:00

-

21 november, 2018 @ 17:00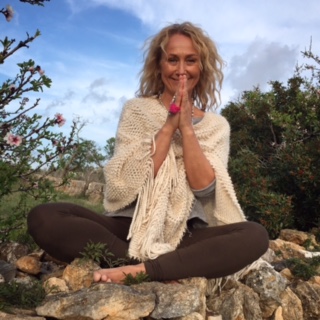 Welcome to a 10 days Retreat of Hatha Yoga with Karin Bjorkegren Jones. The retreat contains early morning – and some sunset afternoons of yoga, meditation and teqnique.
In the mornings we do physical hathayoga where we work with hip opening, twisting, strengthening and sometimes challenging exercises. In the evenings we end the day with casual yinyog classes. Yin and yang. In between, we have meditation, breathing exercises, knee exercises and lymphatic lessons. About Karin; The author, yoga teacher and lymph massager Karin Björkegren Jones have been practising daily yoga for more than 20 years.
She has completed several yoga educations and is a certified yoga teacher according to the Yoga Alliance. During her cancer treatments, she used to yoga and said herself: "I had never survived without yoga. Yoga is a powerful tool when life is difficult. I'd love to learn. "
Karin has written several books on yoga and health. For six years, she has traveled around Sweden and held full-featured workshops in both the art of pelvic floor exercises and practical workshop on how to take care of lymphatic system. Karin is a popular health influenser who is burning to make people feel good. So make sure to book your place.
You arrive by plane early morning 12 November and get access to your Bungalows right away. You check out on the evening of November 21st.
Proposed to travel home again with a flight leaving Goa early morning on November 22nd (leaving the resort at about 23.30 on November 21st)
Included:
10 day retreat with Karin Björkegren Jones
Accommodation in Bungalows by the sea
(you can choose to stay alone or share bungalow with someone)
Welcome dinner
Pre Yoga: Tea, Coffee & Fruits
Post Yoga: Big yoga breakfast buffets
Vegetarian dinner buffets
Closing dinner
1 Deep Tissue Massage (possibility to book more on site)
Not included:
Flight to Dabolim, Goa. Fastest via Finnair or Qatar Airways. Also check Air India. Cheapest by air as a stopover in Europe and Mumbai
Transfer from airport (approximately 325 KR (2500 INR per car)
Other meals, snacks, drinks
Massage. If you want more massage than the one included, you can book different treatments on site
Consultation with Homeopath
Trips. There are lots to experience in Goa. Nature, Culture, Spice Plantation, Capital Panjim, Mapsa Market, Anjuna Flee Market, etc.
Singel Accommodation 13.300 SEK, Shared Accommodation 9.600 SEK
To registrate; contact us by mail info@palmgrovebeachresort.com
The registration fee (included in the above prices) is 4000 kr should be paid by registration and is non-refundable.
This retreat is for participants who has practised Ashtanga yoga before.
Maximum participants is 16.
Warm Welcome!